Posted by Savana Price on 29th May 2019
Maybe you have been curious for weeks, months, or even years now what all the hype is about with Cricut Explore Cutting Machines. Or maybe you own one but don't know all of the power that these little machines provide! Whatever the reason – I will list some of the materials that the Cricut can cut as well as the projects that you can make, showing you what the Cricut Explore can cut. Whether you will be using your machine for personal use or to create products to sell, you will be amazed at the potential for success you will have once you see all of the amazing things people create with Cricut Explore! This list is curated for the Cricut Explore One, Cricut Explore Air, and Cricut Explore Air 2.
If you are thinking about buying your first cutting machine or just need to update your current machine, you can not go wrong with the Cricut Explore Air 2! Everything you need (& want!) is in this little baby.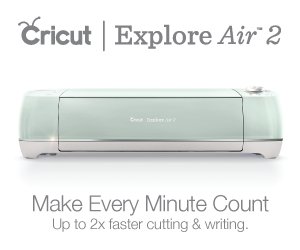 Below is a list of what all of the Cricut Explore machines can cut. Each is provided with a link to that material (or a very similar material if one can not be found) from Amazon, because let's face it - we all end up stocking up from Amazon anyway! This little list saves you tons of time - I even tried to pick out some of the cutest stuff I could find! All are Amazon Choice, Best Sellers, or have excellent ratings!
Materials the Explore Can Cut:
And all of those are just to name a few! Now if that isn't enough encouragement to get started with your own business, I don't know what is! The products that you can make with all of these mediums are endless! If you are about to start your own business, be sure to get your 40 free listings on Etsy!
If you need a little extra confidence see our guides on How to Buy, Download, and Use A Cutting File, How to Group, UnGroup, Flatten, and Unflatten, and How to Slice, Weld, Attach, Contour, Duplicate, and Delete.
Products Made After Using SVG Cut File Designs in Your Cricut Explore Cutting Machine:
T-Shirts
Mugs
Wood Signs
Cards
Pillows
Wine Glasses
Cupcake / Cake Toppers
Tumblers
Car Decals
Totes and Bags
Mason Jars
Journal Covers
Planner Stickers
Jewelry
Plates
Gift Tags
Dish Towels
Candle Holders
Glass Blocks
Ornaments
Party Décor
Stickers
Wall Decals
Easy Cricut Explore projects for beginners would include creating t-shirts using heat transfer vinyl, card-making using beautiful card-stock, and sign making using adhesive vinyl.
Did you know that Cricut Explore Air and Cricut Explore Air 2 can even WRITE?! Now that is cool! The writing function is perfect for creating custom cards and personalized gifts. We can't forget to add this awesome pen collection to our cart!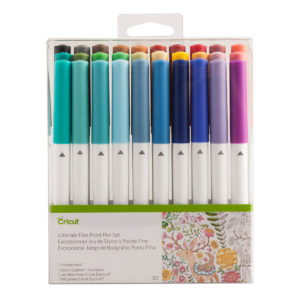 Ultimate Fine Point Pen Set 30
By now you may be wondering what can't the Cricut Explore do?
To be honest, it's easier to list the things it can't do, because it obviously does a lot.
The Cricut Explore is NOT a Printer
It is NOT a 3D Printer
These machines can NOT cut very thick material (thick leather, thick fabric, thick foam)
It can NOT cut materials that can shatter or are super hard (glass, thick metal, thick wood, ceramic)