Posted by Savana Price on 5th Feb 2020
This post contains affiliate links. If you decide to purchase something through a link in this article I may receive a small commission. Using or purchasing through an affiliate link does not cost you anything extra.
If you have a Cricut, Silhouette, or another cutting machine you may have already played around in the world of vinyl! Vinyl is a fascinating material that you see everywhere. It can be on restaurant windows, company trucks, t-shirts, signs, walls, and just about everywhere you could imagine. So what is vinyl and how do I know which vinyl to use when cutting in my cutting machine?
What Is Vinyl?
Vinyl is pretty much a type of plastic made of polyvinyl chloride or a similar polymer. It was invented in 1920. You may know about it from wallpaper coverings, siding, gloves, or phonograph records (a.k.a. "vinyl records"). Vinyl – unlike many other plastics – is easily recyclable. Vinyl and products made from vinyl have a very long life span overall. It is even pretty environmentally friendly, using natural resources in its production. The sort of vinyl we reference in the crafting world involves heat transfer vinyl and adhesive vinyl.
Which Vinyl To Use Chart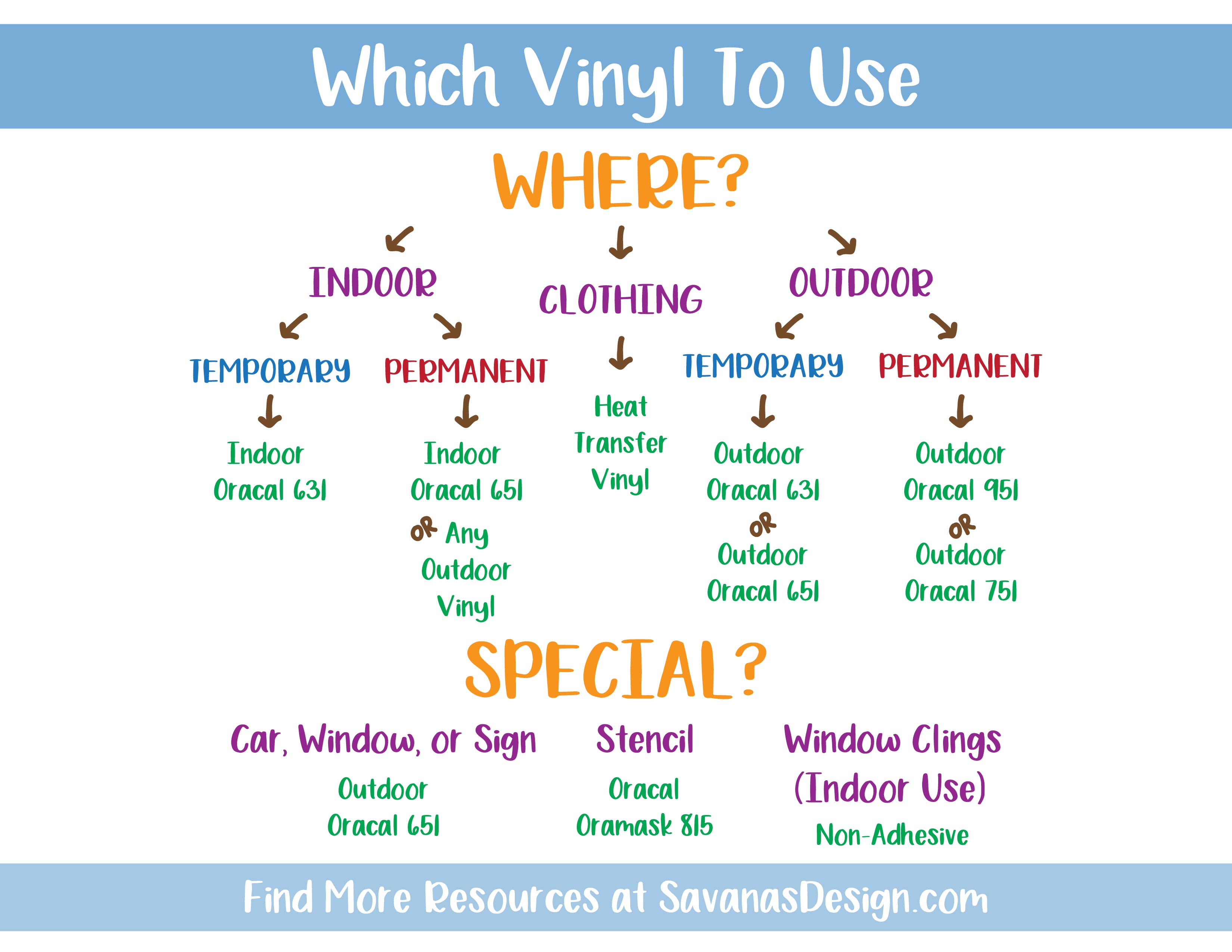 Save the image above to reference for later!
Which Vinyl To Use
Overall, vinyl is very easy and fun to work with. It is most important to know which kind of vinyl to use when making projects that will be temporary, permanent, around water often, or for the outdoors. It is also very important to know which type of vinyl you should use depending on the material you will use it on. For instance, you would not want to use a heat transfer vinyl that you would use on shirts for an outdoor trash can. I will go down the list from the most popular vinyl options and materials.
Clothing
To use vinyl on apparel you will need to use heat transfer vinyl. Don't forget to mirror your image before cutting it out! Also make sure to use teflon sheets even if you are ironing on your design, they are amazing!
Indoor Options
A temporary option for indoor use would be Oracal 631. A more permanent option is Oracal 651 for the maximum number of years that it will last. You can also use any permanent vinyl designed for outdoors, depending on your purpose. You will want to make sure to have a good transfer tape handy after you are done cutting your design out.
Outdoor Options
There are 2 good temporary options for outdoor use. The first is Oracal 631. This provides the shortest time in which it will last allowing for easy removal. A slightly longer option is Oracal 651. This should last a few more months but is also easy to remove.
If you are looking for permanent options, you will want to choose wisely. The best choices for permanent exterior use is Oracal 951 and Oracal 751. The Oracal 951 will last longer than the Oracal 751. You will want to make sure to have a good transfer tape handy after you are done cutting your design out.
Overall, most transfer tapes should work just fine. If you are anything like me and have had some back luck with transfer tapes, try out JANDJPACKAGING transfer tape. The reviews are stellar and will work with just about any kind of vinyl! Many people even reuse the tape for multiple projects before it has to go in the trash.
Car, Windows, and Signs
Even though you can follow the chart for these it's important to note that decals for cars, windows, and signs are not always meant to stay on forever. Sometimes they may need to change out sooner rather than later or you may just want to keep replacing the vinyl every few years for a fresh new look. That is why Oracal 651 is ideal for these types of applications. They will last quite a while, but you will also be able to easily remove the vinyl when need be.
Stencil
A good brand of vinyl for stencils is Oracal Oramask 815, although there are many other great stencil vinyl options out there.
Window Clings
Do not confuse this one with a window decal like you might see on a restaurant window. A window cling is usually for indoor use only. You can use them to dress up a door with glass in your house. You can make a window look like it is stained glass! You can do all sorts of things with glass in particular as long as you are using non-adhesive vinyl.
An extra tip for making your vinyl last longer? Make sure the vinyl you are using is designed for use on the material you are applying it to. Also make sure to prep and clean your surface!
Don't Forget The Tools!
Your Medium of Choice, Vinyl, Transfer Tape, Squeegee Tool, Tweezers, Precision Knife (I prefer a precision knife over tweezers when weeding out my vinyl), Iron (when doing heat transfer), Clothing Material (when doing heat transfer), Teflon Sheets (when doing heat transfer)
Share On Pinterest!