Posted by Savana Price on 9th Dec 2019
* Please Note: I have dedicated many hours creating this quick and easy Best Christmas Fonts for the Holidays reference to make your life easier. The links provided are affiliate links. They cost nothing more to you. It is simply a way that I can earn a small commission from the referral if you choose to buy a font. If you want to buy one of these fonts, please do so from the links provided as this allows me to keep providing you with helpful content!
With so many unique Christmas fonts out there, sometimes it is hard to find the very best Christmas fonts around. I will show you 10 good Christmas fonts that you can use for Christmas cards, Christmas decorations, and Christmas crafts! These festive fonts are handpicked and ready to be used in your holiday designs!
10. Peppermint by Sugar Bear Studio
Peppermint is the perfect Christmas card font! This festive font has easy to read thick letters with little candy canes on the inside, making it easy to read and perfect for Christmas card headlines. If you have a Christmas family photo that will be your Christmas card this year, you may have just found the perfect font!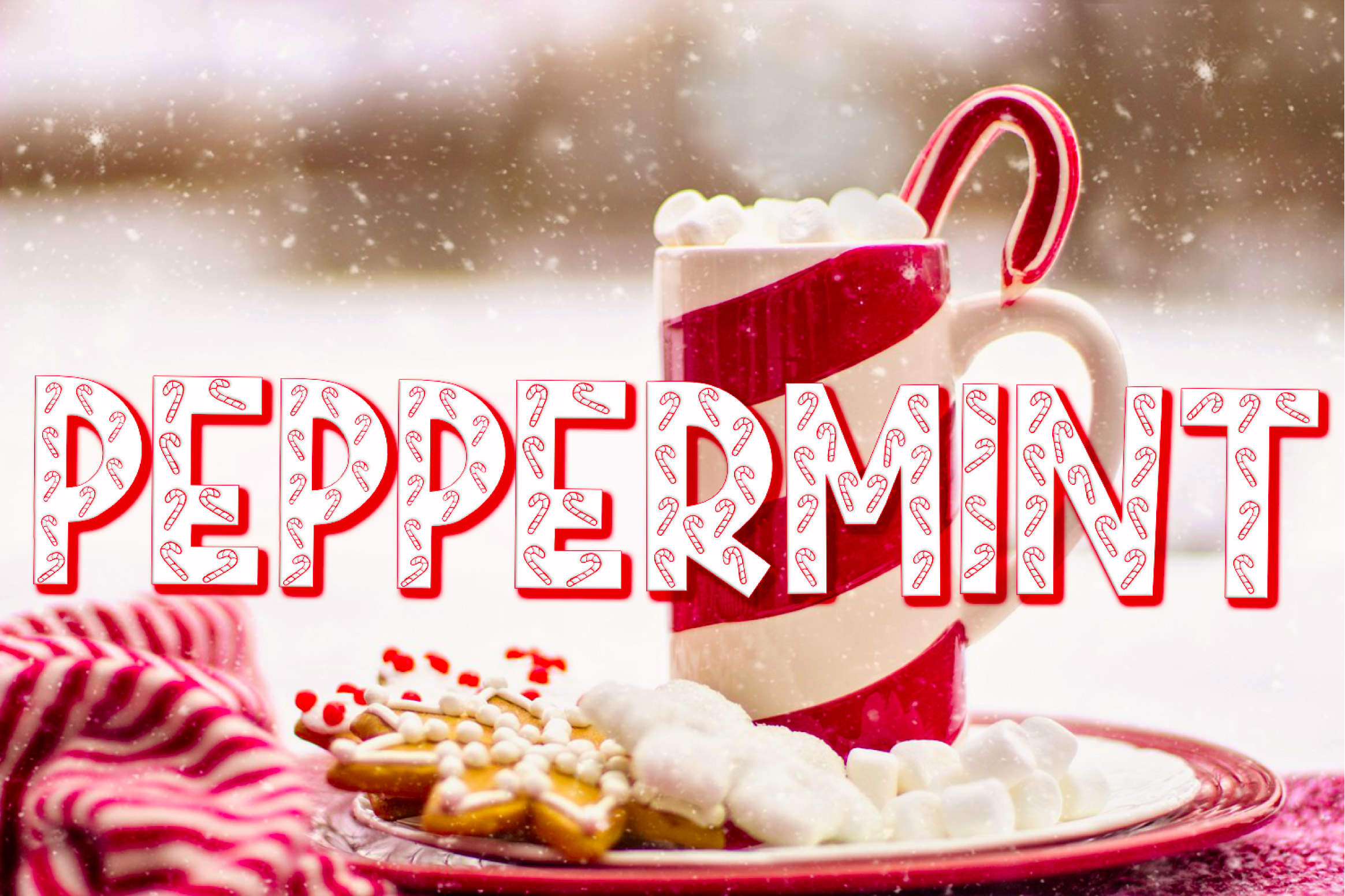 9. Sleigh Bells by Justina Tracy
Oh what fun is this Sleigh Bells font for the holidays? Sleigh Bells is uniquely crafted with each individual letter in mind. No two styles are the same! You'll find candy cane, Christmas stocking, candle, present, Christmas tree, reindeer antler, and snowmen styles in this cute font download. Really cute idea for DIY apparel crafters!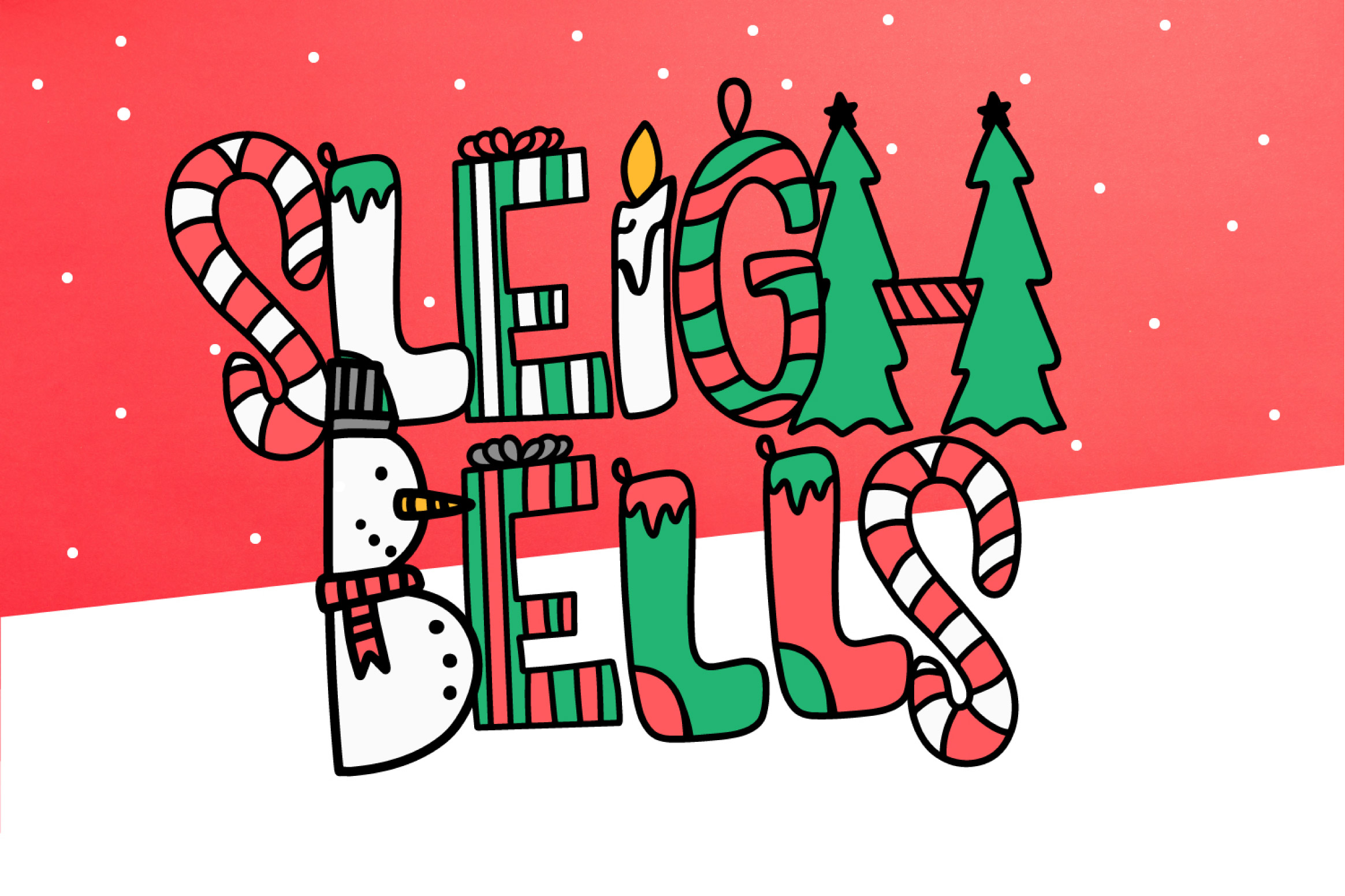 8. Ugly Christmas Sweater by SVGCutFile
Ugly Christmas Sweater takes a terrible style and makes something great out of it – an ugly sweater font! This ugly sweater font is perfect for Christmas cards, apparel, and décor. You can tell a lot of work and time went into making this one!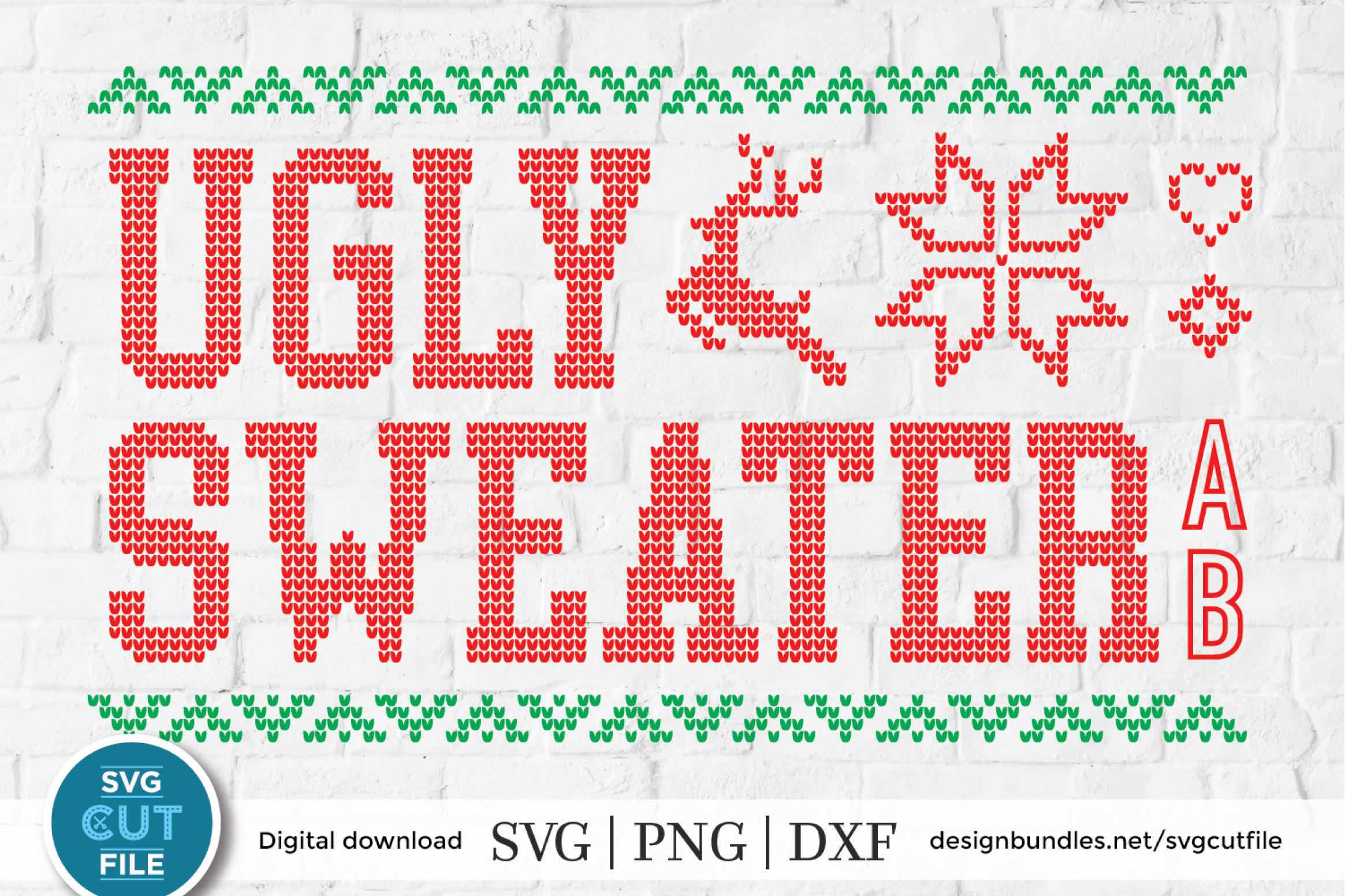 7. Reindeer Goals by Kitaleigh
This reindeer font is simple and sweet. Each capital letter has a cute nose and antlers which allow the normal lowercase letters to complete the design without competing for attention. This Christmas classic should definitely be added into your holiday font collection if it is not in there already!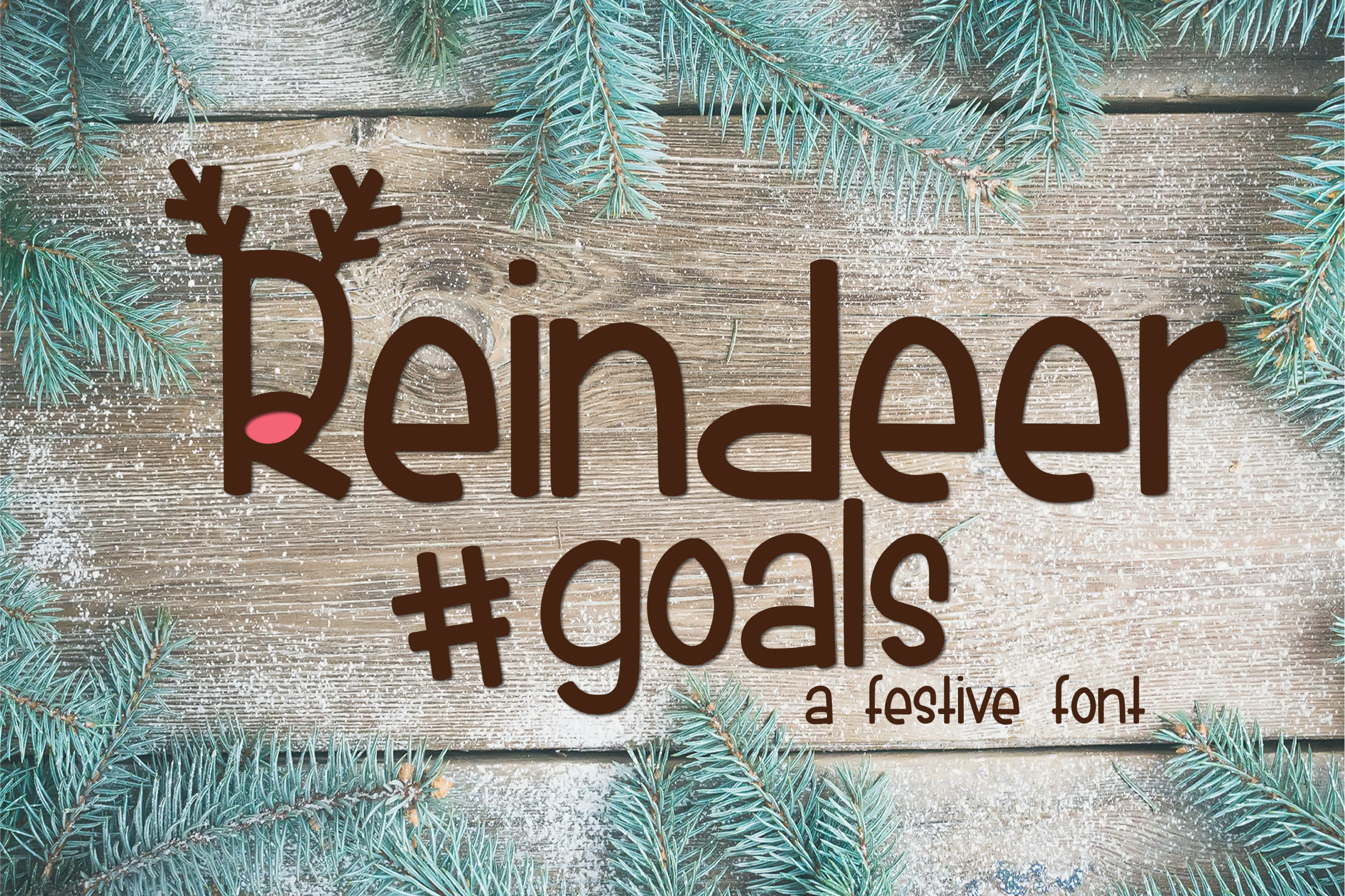 6. Holiday Things by Justina Tracy
This letter font is perfect for cute Christmas headlines or to use the individual letters as a monogram. This festive font has tons of character and would work well for ornament design, decals, and cards.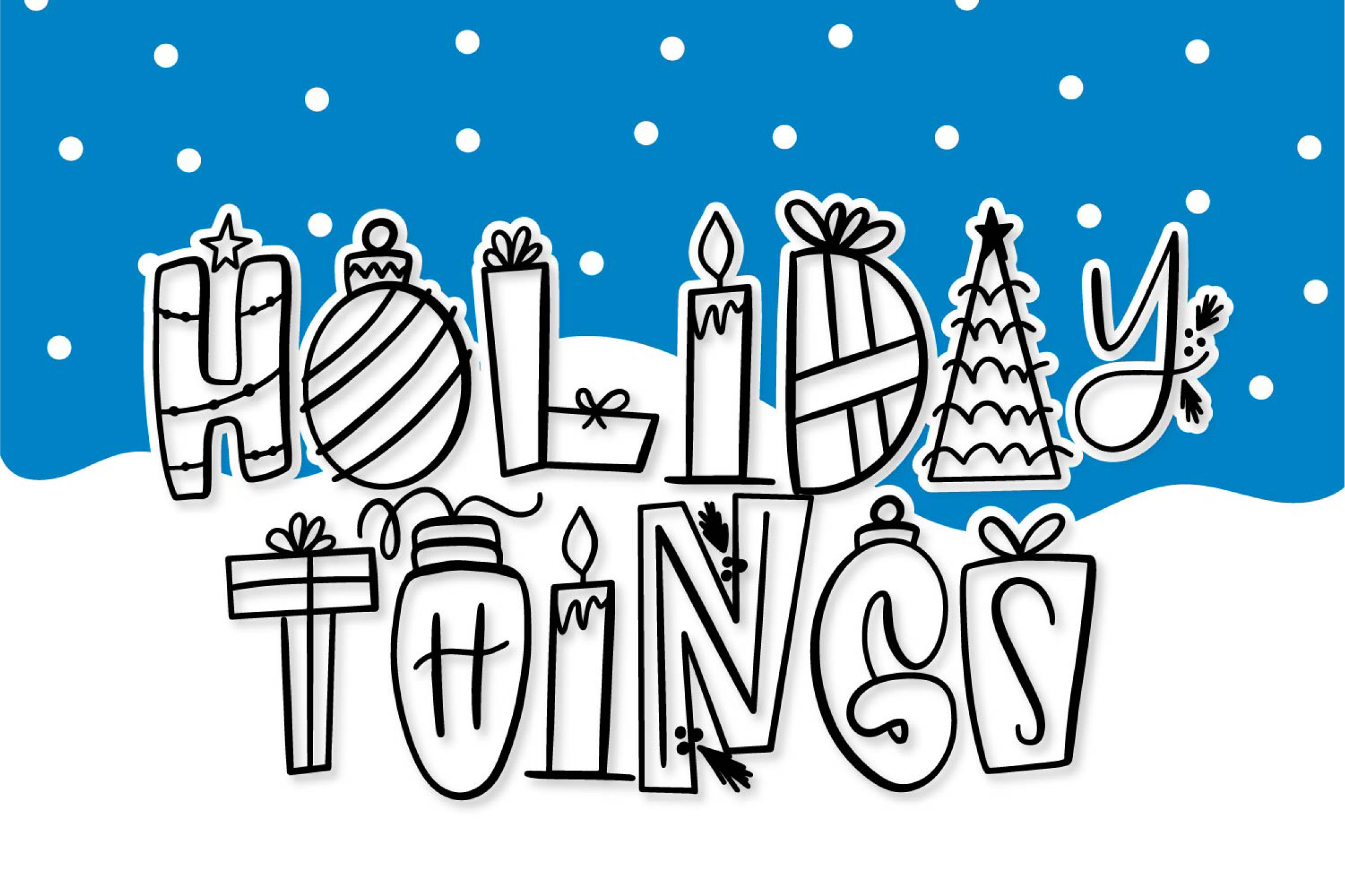 5. Holiday Season by theinkaffair
Holiday Season is the perfect font for when you want a slightly more serious feel. It is a perfect representation of Christmas typography yet is still festive by nature. Holiday season is a thick letter font with a connected shadow effect to the right of each letter or number. Uppercase has an adorable subtle snow fall feel with small circles in the shadows of the letters while the uppercase alternatives feature a cute top bow as well. Lowercase letters and numbers are more plain, making them perfect for many different designs. This font is perfect for décor and yes, you guessed it – holiday cards!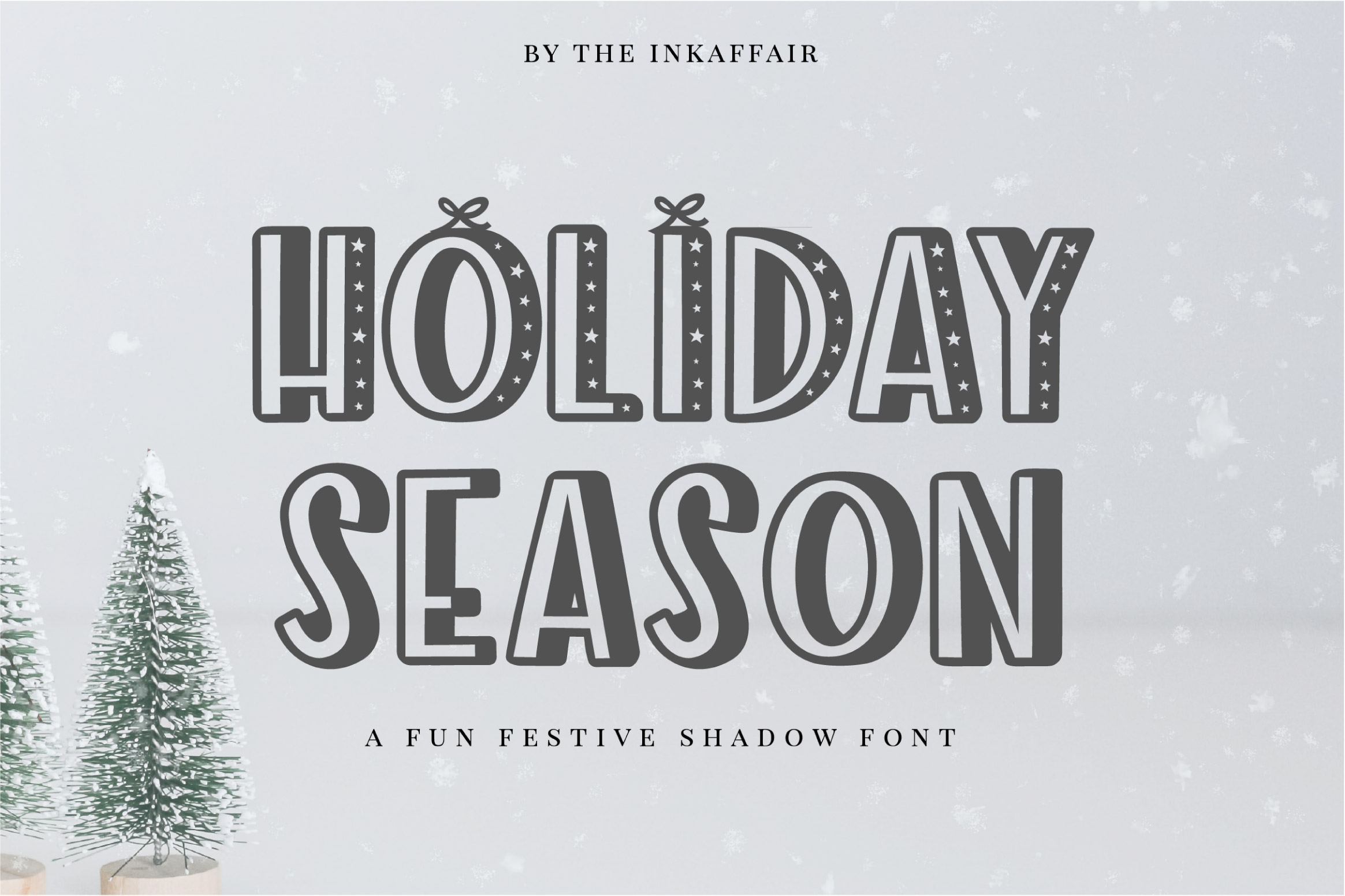 4. Happy Hollydays by Jordyn Alison Designs
If I could only describe Happy Hollydays in one word, it would be CUTE! Luckily, I'm allowed to use many more words to describe this adorable holiday font. For starters, it has a strong Christmas lettering font appeal. Each adorable letter has holly incorporated. You should grab Happy Hollydays for your holiday if you plan on creating homemade ornaments or wooden sign décor.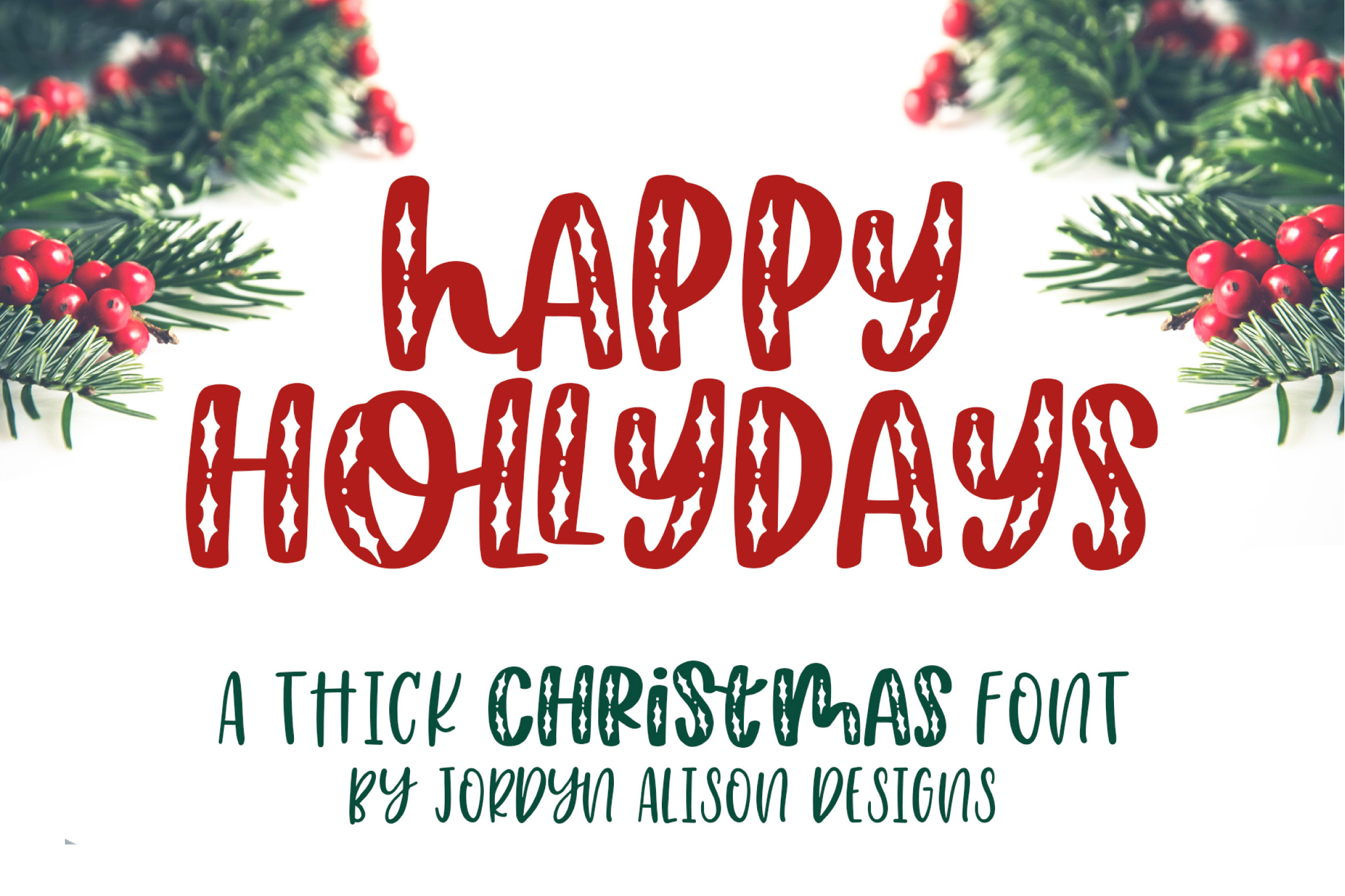 3. Buffalo Jane by Kitaleigh
When I first saw Buffalo Jane, I just knew I had to include it in this list. Buffalo plaid is so popular, and this font will be sure to please anyone who sees it. This fun winter font features quirky letters, letters, and even some international alternatives. Buffalo Jane is perfect for Christmas tags, shirts, and gifts!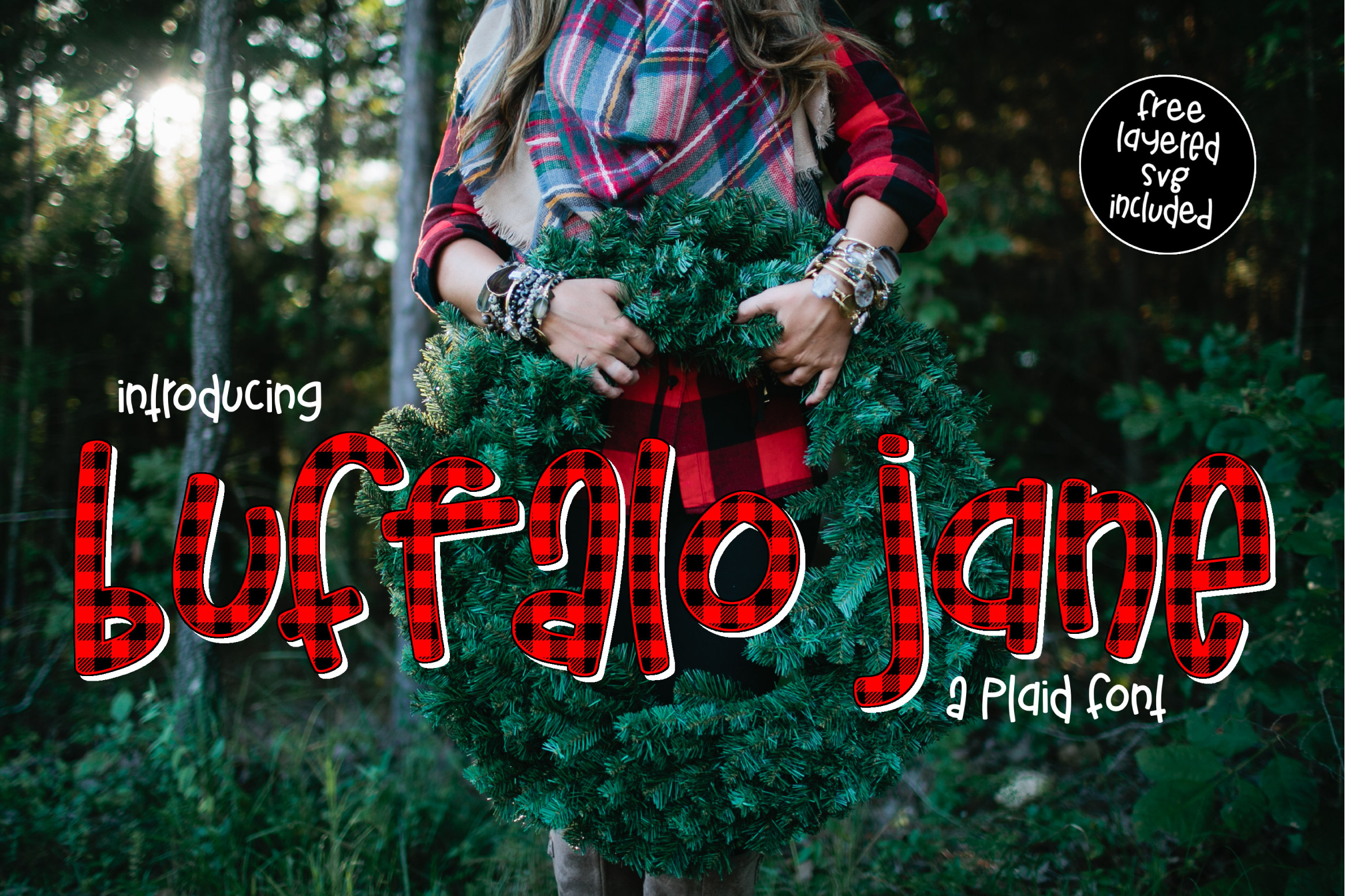 2. Bright Lights by HerCraftStudio
This Christmas light font is a perfect choice for Christmas cards, apparel, and décor. Each letter has a Christmas light strand wrapped around it. The best part is that this font comes with SVG and EPS options – making it super easy for crafters! I just love how unique this particular font it. It screams festive, so if you are looking for festive – here it is!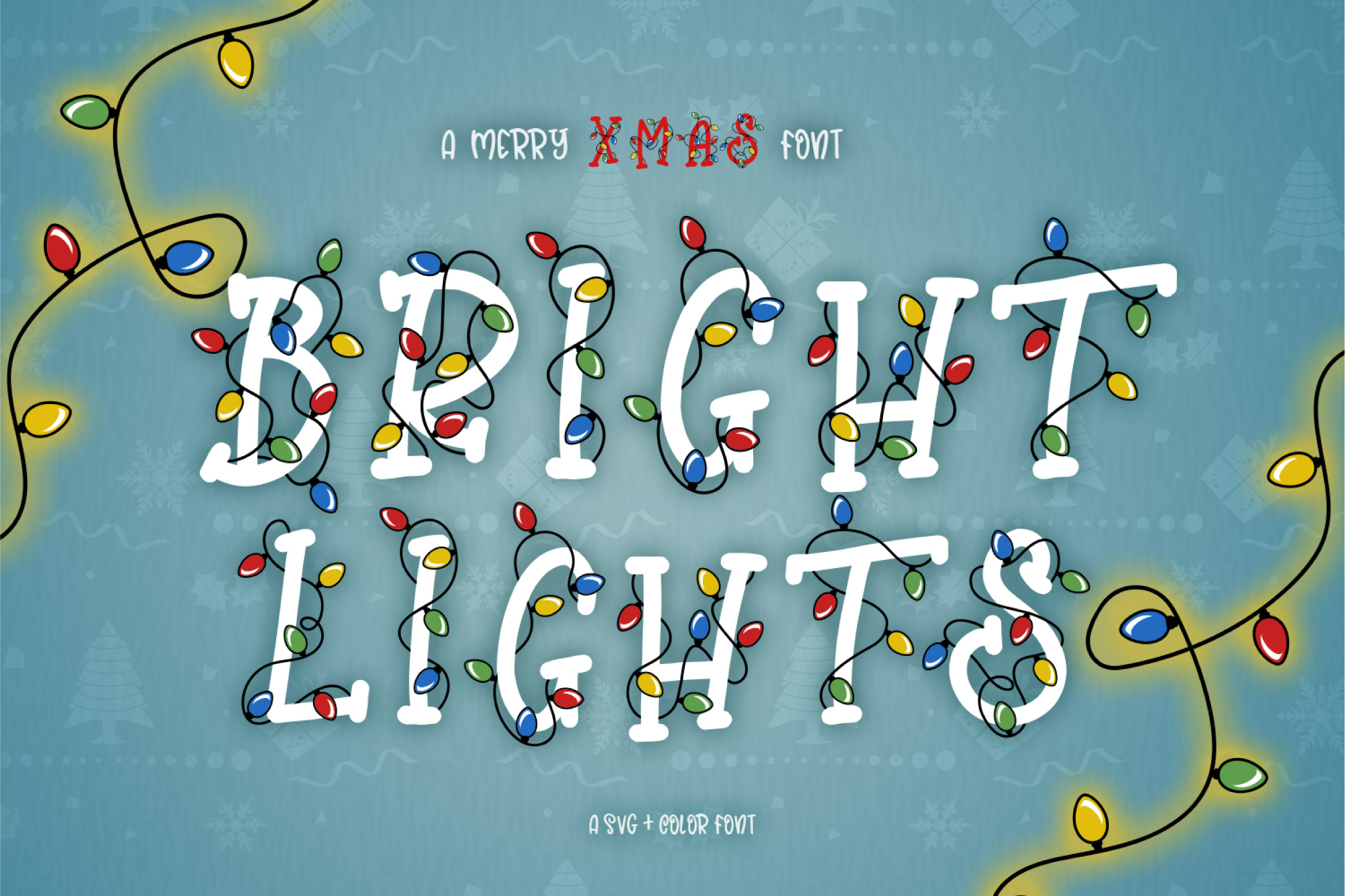 1. Tingle Tangle by Justina Tracy
Our favorite font this year is Tingle Tangle! Not only is this Christmas font easy to read and would work well for numerous projects, but there are SO MANY alternatives! Want ornaments, Christmas lights, candy cane, plain? You got it. Every single letter comes in those 4 styles. The plain letters take all of the negative space out anyway – making cutting for crafters a breeze. There are just so many options for this font and you can mix and match them however you like! If you can only get one font, Tingle Tangle is a very safe bet that you will use it in numerous Christmas projects.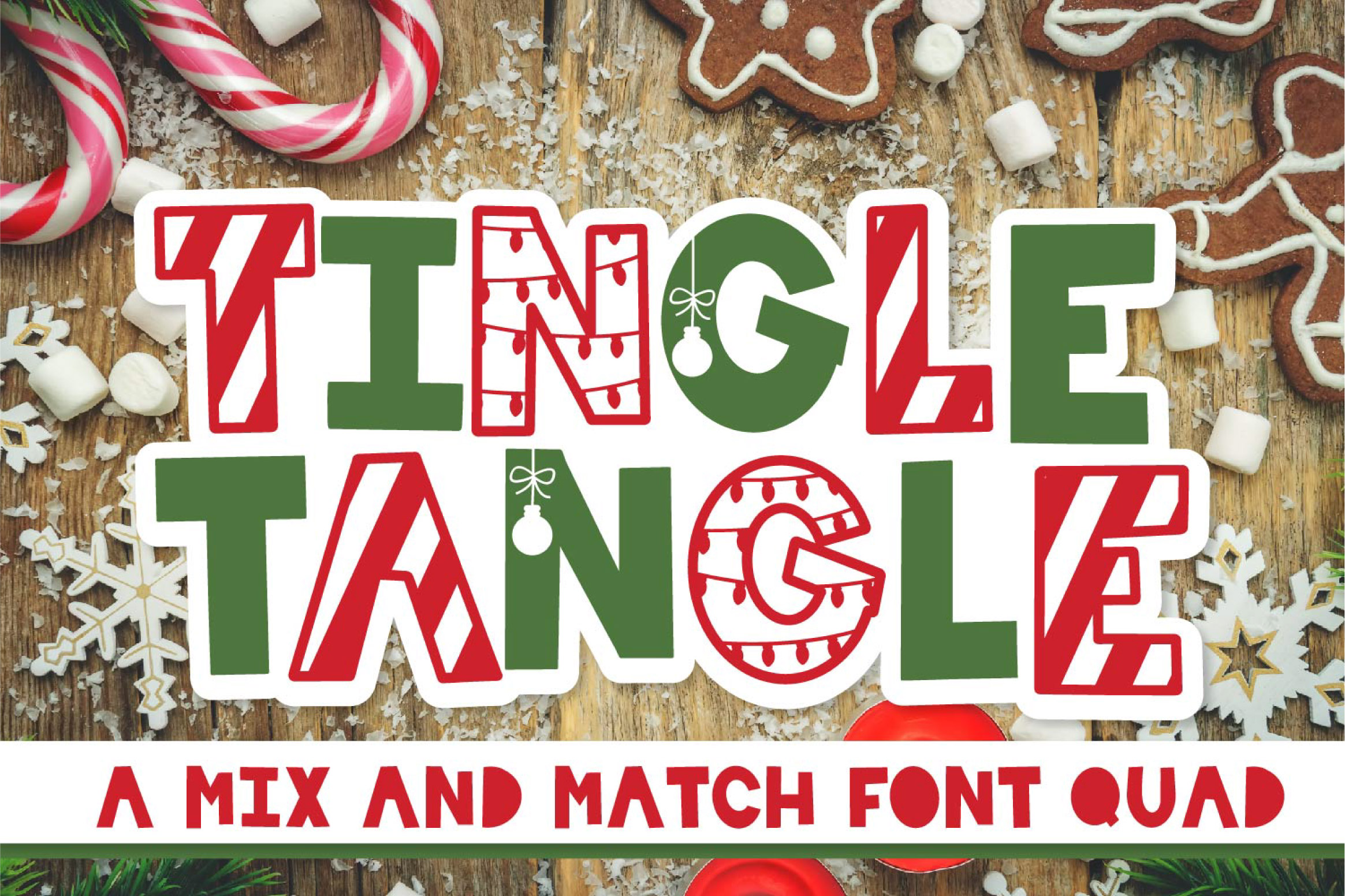 I hope you found something that works perfect for your project in this list! This is my personal list of best Christmas fonts, but there are so many other great ones out there! Whether you are looking for that perfect ugly sweater font, Christmas light font, or Christmas card font, we hope that our list at least helped you get your creativity flowing!
---
See Also: Best Free Christmas Fonts
---